Ordering the device
Odroid GO Advance (OGA) can be ordered from the official HardKernel site or other official distributors. Unluckily due to the coronavirus spread in China, the device is out of stock until May 2020.
I ordered on 31 Jan and it was shipped on 10 Feb and I received on 13 Feb. That was really fast. Unfortunately they used DHL Express for shipping and I have to pay additional the custom fee. So in total 67EUR (device 55USD + shipping 16USD) + 27EUR (custom).
Hardware assembly
Order: LCD display (BE CAREFUL) – screen protector – joystick (screws) – other buttons – speaker – motherboard (screws) – LCD and joystick connections (BE CAREFUL) – battery + back case – L/R and power buttons – lock case pins and screws
press power switch for 1s to turn it on: "No SD card" indication
Installing the emulation system
Will need a MicroSD card at least 8GB (up to 512GB). There are currently several OS under development:
Transfering games
The device doesn't have Wifi or bluetooth. So to add games one would need
Linux PC (eg Raspberry Pi; Mac doesn't work) or Windows with Software that can recognize linux partition
or using a USB-Wifi adapter (eg. TP-Link TL-WN725N) and transfering using SSH/SCP/SMB (odroid/odroid)
1


2


3


4


5


6


# ssh to manage files
ssh odroid@192.168.x.xx
cd /roms

# scp to copy
scp <rom file> odroid@192.168.x.xx:/roms/gba

Using the Scraper to get game previews
The EmulationStation has the Scraper that pulls from TheGamesDB or ScreenScraper. Press the START button to use.
Buttons and operations
ON: press power button for 1s
OFF: single press power button
Force OFF: press power button for 6s
Function buttons at the bottom: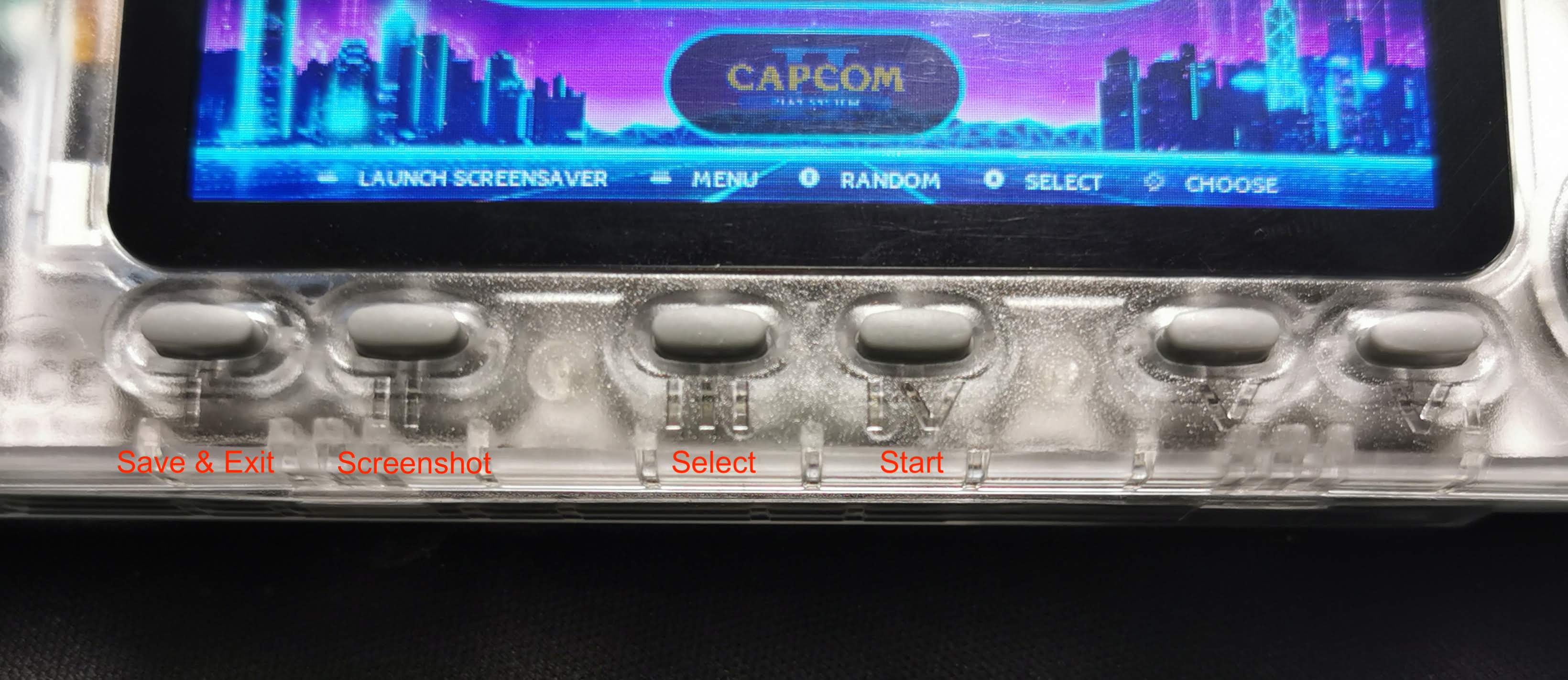 Pros and Cons
Pros
high performance hardware (CPU RAM)
beautiful and bright LCD screen (wide color)
long battery life (10 hours)
attracting price (excluding the custom fee)
Cons
needs self-assembly
no USB charging (extra DC cable)
the transparent plastic case looks ugly (personal view)